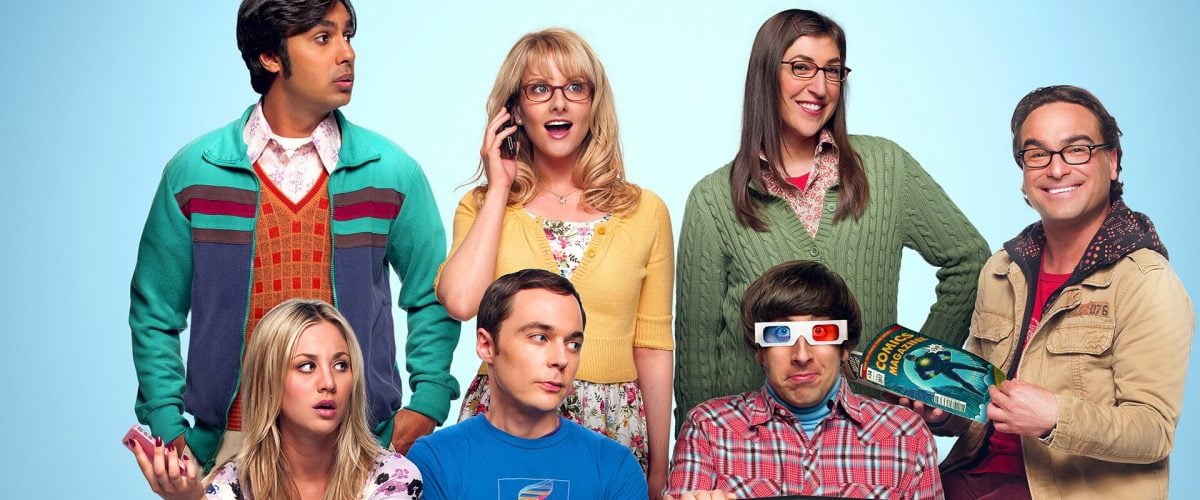 Les séries télé sont friandes d'allusions cocasses à l'intolérance au lactose, inépuisable source de comique de situation, dans des scènes quotidiennes – et gênantes à souhait.
Leonard Hofstadter (interprété par Johnny Galecki), le personnage hypocondriaque de la sitcom américaine The Big Bang Theory, créée par Chuck Lorre et Bill Prady (diffusée dès 2007), est intolérant au lactose (en plus d'être myope comme une taupe et multi-allergique).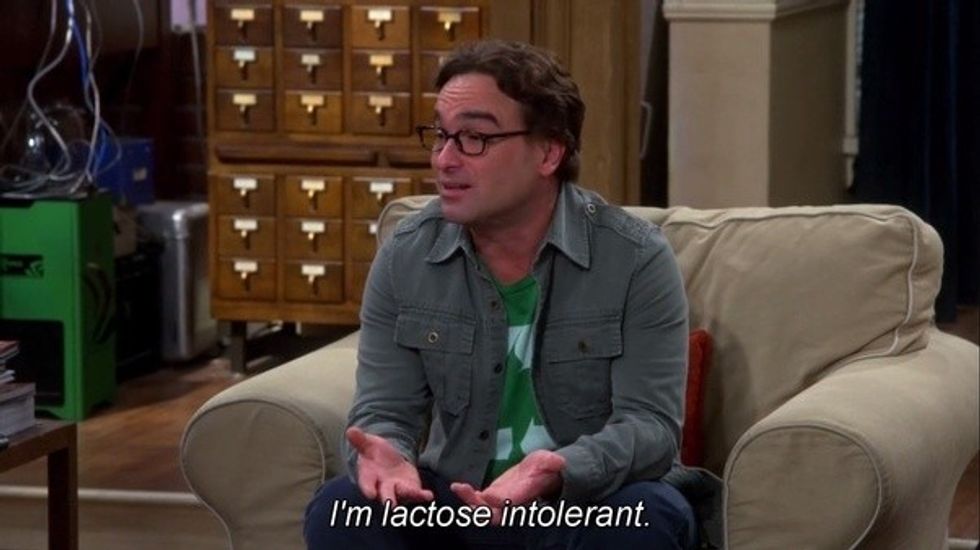 – et son colocataire (dans la banlieue de Los Angeles) Sheldon Cooper (interprété par Jim Parsons), physicien geek asocial, ne se prive pas de le rappeler, plus ou moins à propos…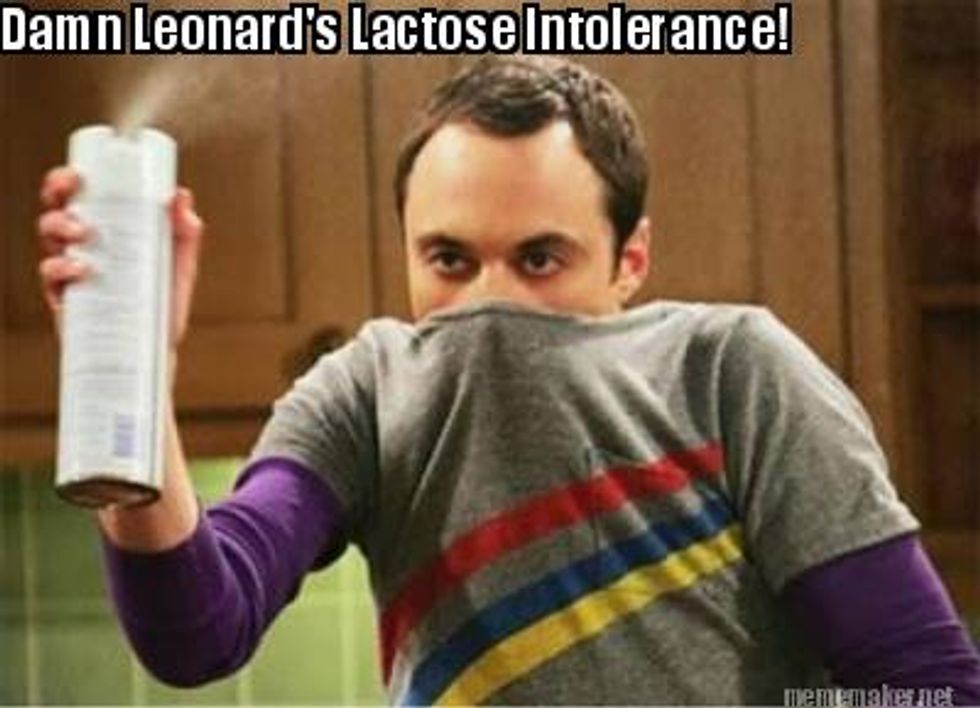 … Au point qu'une blogueuse américaine, Indira Midha, étudiante à l'University of Illinois et intolérante au lactose elle-même*, a consacré, sur le site https://www.theodysseyonline.com/ (username: midhaind), une page internet entière aux « 10 fois où The Big Bang Theory épingle ce que veut dire d'être intolérant au lactose » (10 Times « The Big Bang Theory » Nailed What It's Like To Be Lactose Intolerant – « I don't eat it. I just think it's a good idea.« ) !
* En guise d'introduction à sa page humoristique, elle témoigne : « Il y a environ un an et demi, j'ai découvert que j'étais intolérante au lactose. C'est dur de passer de : une-vie-entière-à-adorer-le-fromage-et-les-crèmes-glacées à : désirer-mourir-si-vous-oubliez-une-fois-de-dire-à-la-maîtresse-de-maison-de-ne-pas-mettre-de-fromage-dans-son-omelette ! »
(« About a year-and-a-half ago, I found out that I am lactose intolerant. It's tough to go from loving cheese and ice cream your entire life to wanting to die if you accidentally forget to tell the waitress no cheese in your omelet. Living with lactose intolerance definitely presents its obstacles, even though it isn't the most serious health issue to have.« )
Un dialogue cinglant, en présence de la charmante voisine (la pulpeuse Penny, interprétée par Kaley Cuoco, qui fait fondre Leonard)…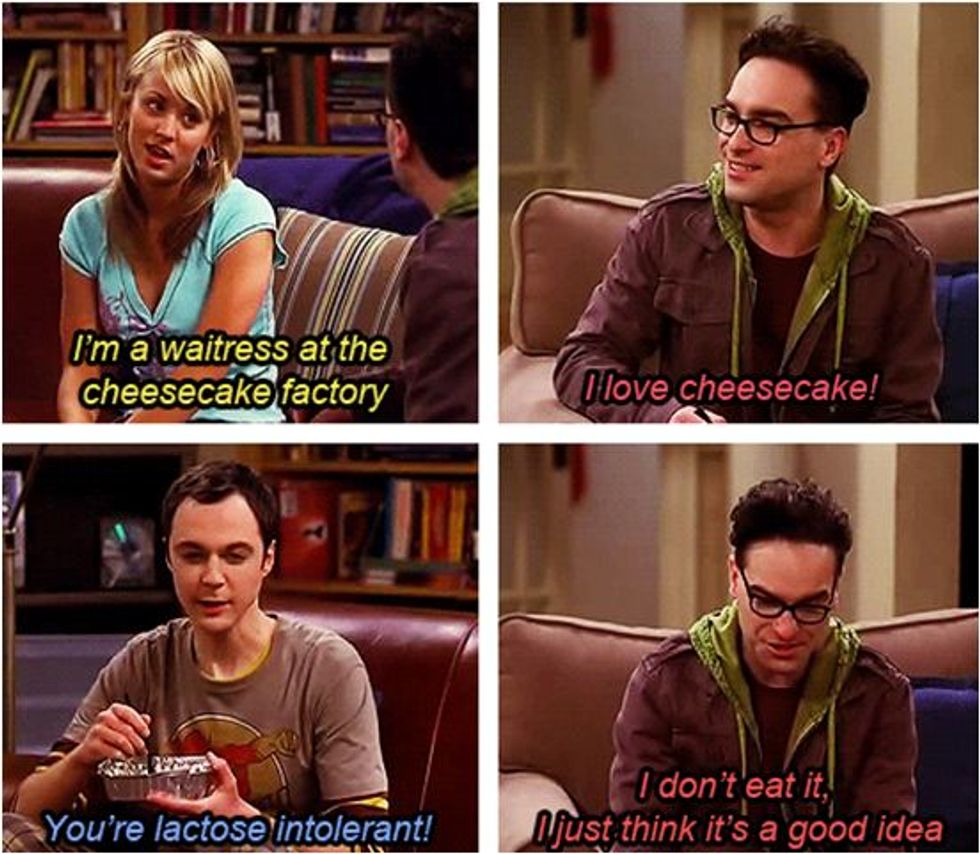 PENNY : Je suis serveuse à la Cheesecake Factory.
LEONARD : Oh, j'adore le cheesecake !
SHELDON : Tu es intolérant au lactose.
LEONARD : Je n'en mange pas, je trouve juste que c'est une bonne idée.
… Et des blagues qui fusent :