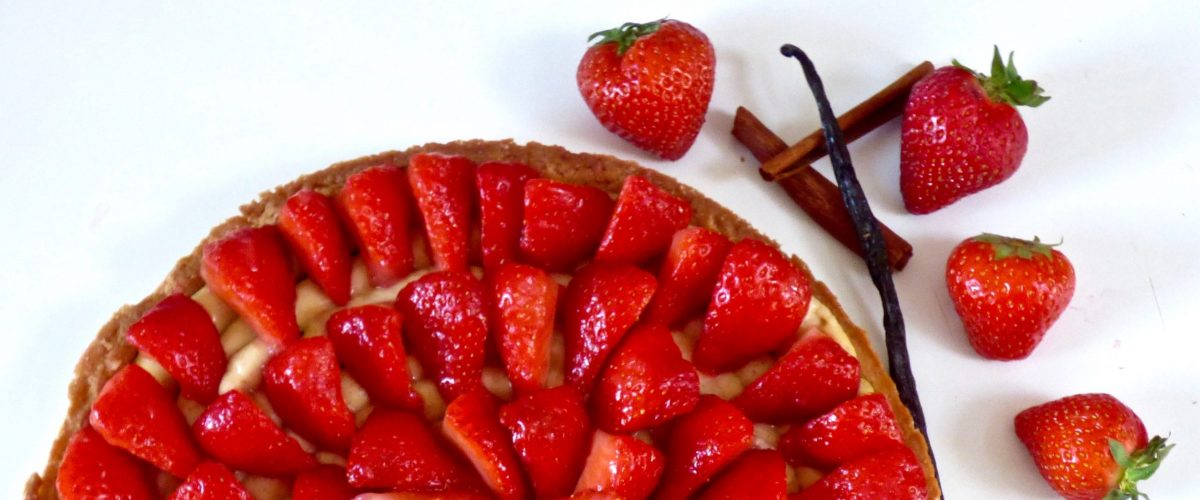 The strawberry tart, a great summer classic! A crispy shortcrust pastry, a gourmet vanilla custard and good strawberries and lactose free!
Ingredients :
Strawberry tart for 6/7 people.
For the shortcrust pastry :
- 250 grams of flour.
- 125 grams of white sugar.
- 1 sachet of vanilla sugar.
- 1 pinch of fleur de sel.
- 1 egg.
- 95 grams of vegetable margarine.
For the vanilla custard :
- 50 grams of flour.
- 75 grams of white sugar.
- 1 vanilla pod.
- 1 small stick of cinnamon.
- 3 egg yolks.
- 40 centilitres of almond milk.
For the filling :
- 2 tablespoons of icing sugar.
- 500 grams strawberries.

Preparation:
Start by preparing the shortcrust pastry:
- In a bowl, beat the egg with the sugar, vanilla sugar and a pinch of fleur de sel. Add the flour and mix until you have a sandy mixture. Then add the margarine, mashing the dough into a ball. Leave to rest for one hour in a cool place.
Then make the pastry cream:
- In a saucepan, heat the almond milk with the cinnamon stick and the halved vanilla bean (for more flavour, cut the vanilla bean in half, run a small knife over it to get the seeds and put them in the milk).
- In a bowl, beat the egg yolks with the sugar and then add the sifted flour.
- When the milk is boiling, remove it from the heat. Remove the cinnamon stick and vanilla pod. Stir the milk into the eggs little by little. The cream should already be thickened a little. Return the cream to the saucepan and cook over high heat for 2 to 3 minutes, stirring constantly to prevent it from burning. Remove to a bowl and cover with cling film.
Prepare the strawberries:
- Wash the strawberries, cut off the stalks and halve or quarter them as desired. Mix the strawberries with the icing sugar in a bowl.
Assemble the pie:
- Preheat your oven to 180°c.
- Roll out the shortcrust pastry on a floured work surface and place it in a pastry circle (or pie dish) 24 cm in diameter. Prick the base of the tart with a fork and weigh it down (with dried vegetables for example). Place in the oven for 18 to 20 minutes.
- Remove the weights from the pie shell. Leave to cool for 5 minutes on a wire rack. Spread the pastry cream over the tart base and place the strawberries on top.