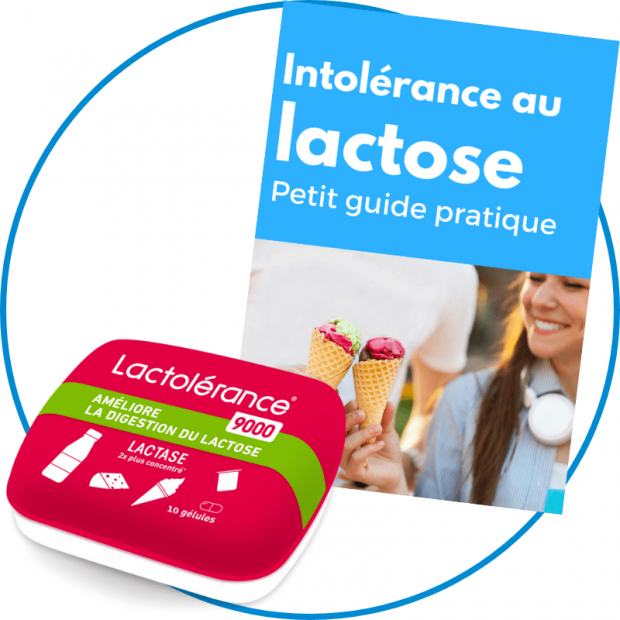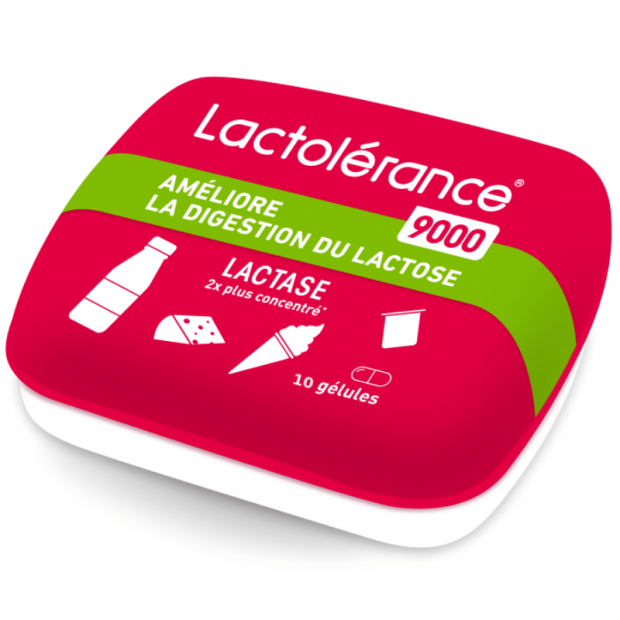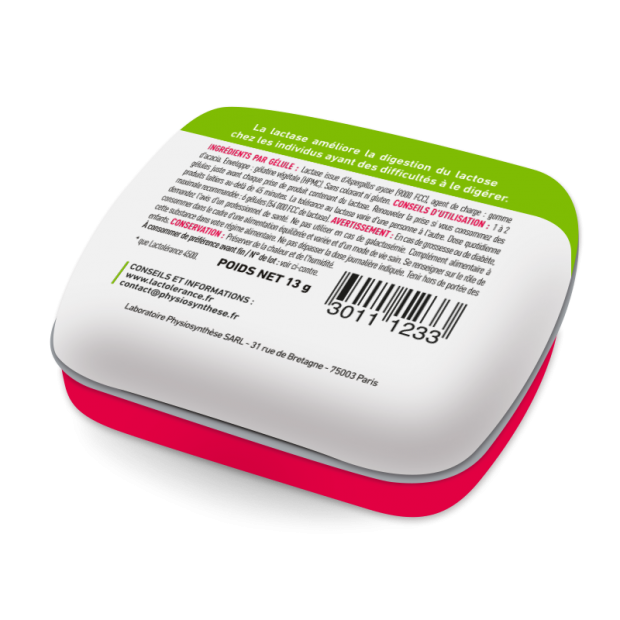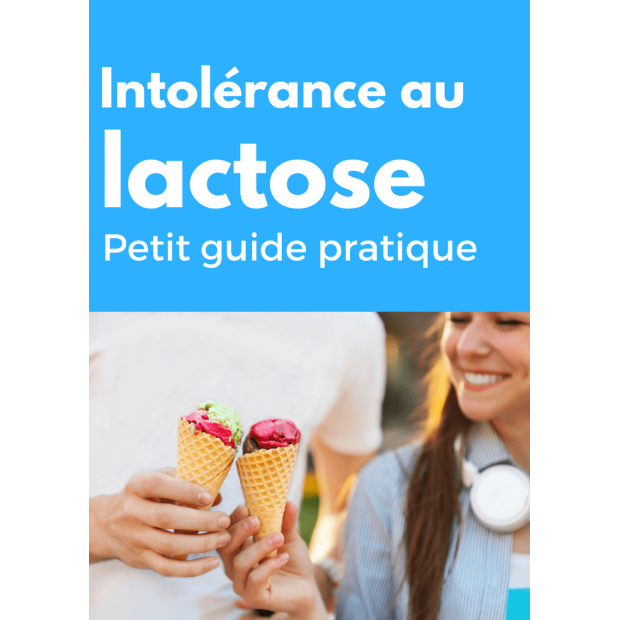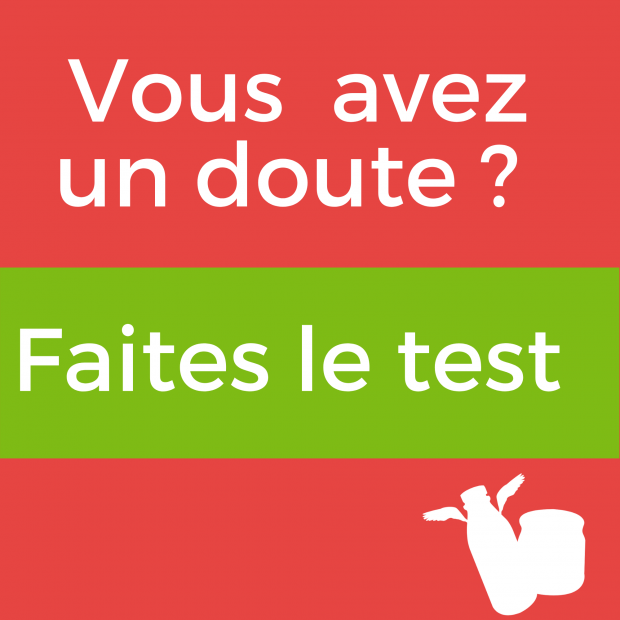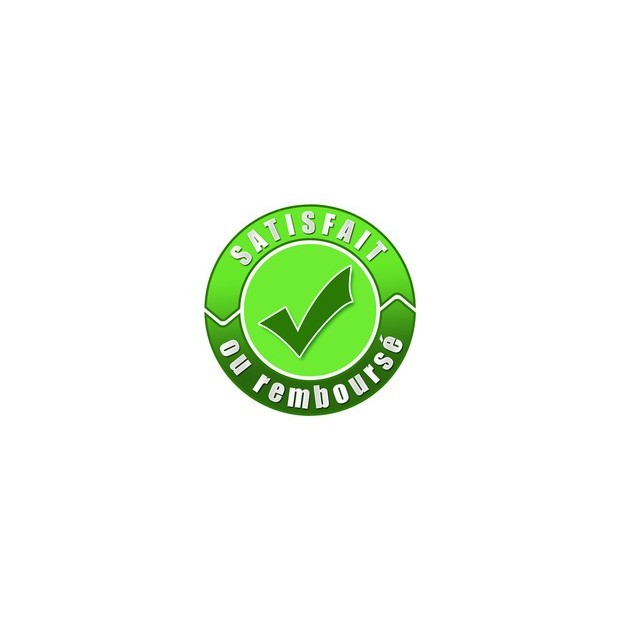 Any level
Lactolérance 9000 - Test box - 10 capsules
Are you lactose intolerant?
Test box of 10 capsules.
Immediately effective from the first use.
Comes with "The little practical guide to lactose intolerance", a 20-page booklet to learn everything about lactose intolerance.
100% natural and without side effects.
Postage included in Metropolitan France in Points Relais.
From 3 years old.
Your loyalty rewarded
By buying this product you can collect up to 49 loyalty points. Your cart will total 49 points that can be converted into a voucher of €0.49.
We tell you more
Test box for lactose intolerance
 LACTOLERANCE 9000 - LACTASE TEST BOX
Are you lactose intolerant?
You think you are lactose intolerant? Try this test box of 10 capsules to find out. 
The lactase contained in Lactolerance 9000 improves the digestion of lactose immediately. If you are lactose intolerant, you will notice the effectiveness of the capsules from the first use. You will know if you are lactose intolerant or not.
To help you understand everything about lactose intolerance, we have included a "PRACTICAL GUIDE TO LACTOSE INTOLERANCE" with the box of test capsules. This 20-page booklet is filled with tips and tricks, as well as a table of the lactose content of the dairy products and other foods you consume on a daily basis.
Lactolerance is a 100% natural food supplement with no side effects. It contains lactase, the enzyme which allows to digest lactose present in milk, its derivatives and elaborated dishes such as pizzas, chocolate, ice creams etc.
If you suffer from an allergy to milk protein, Lactolerance cannot help you. Indeed, the lactase contained in our capsules contributes to the assimilation of lactose and not of milk protein.
The lactase contained in Lactolerance helps to eliminate the symptoms of the intolerance to lactose and makes it possible to find the pleasure of eating simply, without constraints. Lactolerance 9000 can be used daily, up to 6 capsules per day, without any addictive effect.
Metal box of 10 capsules. Also available in 36-capsule boxes and 144-capsule economy bottles.
100% satisfied or reimbursed for 30 days upon request (offer limited to one reimbursement per household, same name, same address).
Ingredients
Lactase from Aspergillus Orizae (9000 FCC), bulking agent: acacia gum. Envelope: vegetable gelatin (HPMC). Without dye and gluten.
Usage tips
Directions for use : take 2 capsules just before eating your favorite dessert for example.
-> If your digestive discomfort disappears (abdominal pain, bloating, diarrhea) a lactose intolerance is very likely and you now have a solution in hand. Do not hesitate to talk to your doctor.
-> If you do not see any improvement, you are not lactose intolerant, talk to your doctor to explore other options.
Consumption date limit
At least one year

They testify
Pour l'instant tout va bien
published the 03/12/2022 following an order made on 10/11/2022
Efficace si on gère bien la temporalité de la prise : chez moi 1 gelule=30 min pour un morceau de fromage, 2 gelules pour un plat à la crème fraîche, à renouveler si on mange encore un produit laitier après ce laps de temps. Une boîte de 10 gelules est un peu juste pour les essais, erreurs mais ça reste une bonne indication sur notre intolérance réelle ou non.
published the 10/02/2022 following an order made on 16/01/2022
très bien sûrement, mais je ne pense pas avoir une allergie au lactose car rien n'a changé pour moi
published the 22/01/2022 following an order made on 30/12/2021
Très bien, conforme à mes attentes, je recommande !
published the 05/01/2022 following an order made on 11/12/2021
A priori, fait son éfficacité. Pas d'acidité gastrique quand je mange des produits avec du lactose, a voir sur le long terme. Je passe commande pour un lot ensuite j essaierais le 1 Day.
published the 24/11/2021 following an order made on 25/10/2021
Efficacité correcte, mais il faut attendre encore quelques semaines pour confirmer.
published the 19/11/2021 following an order made on 28/10/2021
J'ai acheté la boîte test et j'approuve à 100%. Je vais passer au format plus grand car entièrement satisfaite. Fini les maux de ventre. La boîte métallique est pratique pour emporter avec soi.
published the 01/10/2021 following an order made on 02/09/2021
Parfait
published the 02/09/2021 following an order made on 10/08/2021
Ma fille de 17 ans présente des signes d'intolérance au lactose. Il semble que le produit Lactolérance 9000 l'ait aidé à retrouver un certain confort intestinal qu'elle avait perdu depuis plusieurs mois.
published the 18/08/2021 following an order made on 26/07/2021
L'efficacité sur le système digestif est effective mais cela ne contrecare pas le déclanchement du spiorasis
published the 26/06/2021 following an order made on 02/06/2021
Why choose Lactolérance?
Quality
100% natural
Laboratory tested
Available in pharmacies
Proven effectiveness
Services
Personalized advice
Free 24h-48h delivery in Point Relais
Loyalty program
Subscriptions available without obligation
Commitments
Caring Customer Service
Satisfied or 100 % refunded
Same day shipping for orders placed before 2:00 PM (excluding weekends)