Which product to choose to fight against lactose intolerance?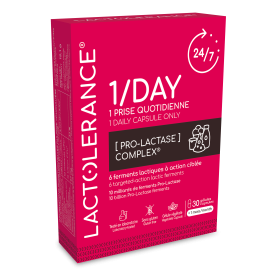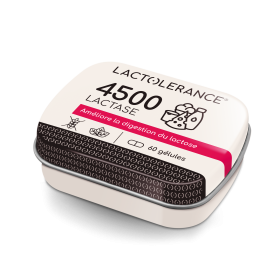 Why choose Lactolérance?
Quality
100% natural
Laboratory tested
Available in pharmacies
Proven effectiveness
Services
Personalized advice
Free 24h-48h delivery in Point Relais
Loyalty program
Subscriptions available without obligation
Commitments
Caring Customer Service
Satisfied or 100 % refunded
Same day shipping for orders placed before 2:00 PM (excluding weekends)
They testify

Since I take a single 1Day capsule, no more worries when consuming a dairy product and no more having to walk around with capsules just in case. One a day and everything is settled.
I no longer have a stomach ache !!!!! I can again eat cottage cheese and products containing lactose without being afraid of pain and diarrhea! I take the one day Thank you !!!!!
My 16 year old son has been lactose intolerant for many years thanks to the "lactolerance" products, he can afford to deviate from his lactose free diet. The products are very effective and the site very serious. Thanks to Lactolérance!
Lactolerance has been preventing me from having very violent crises due to lactose for 2 years now. (Pain and vomiting). I gained an incredible comfort of life. Always super fast delivery! I recommend with my eyes closed and could not do without it. Thank you !
Easy navigation, quick order reception and very good quality products
Who is Lactolerance for?
Lactolerance is intended for people who are lactose intolerant. 
Adults and children from 3 years of age, 6 years of age for Lactolerance 1Day.
It is possible to open the capsules and dissolve the powder in a little water, without loss of effectiveness.
Councils of use :
Lactolerance 1Day, protection 24 hours a day 7 days a week - Any level of lactose intolerance.
1 capsule each day to be swallowed with a glass of water, before a meal.
Adaptation time: about 7 days.
During this period we recommend taking one capsule of Lactolerance 9000 for each lactose intake.
Ingredients : Gum acacia, Pro-Lactase Complex (Bacillus coagulans, Bacillus Subtilis, Bifidobacterium animalis,lactis, Lactobacillus casei, Lactobacillus rhamnosus and Streptococcus thermophilus), HPMC vegetable capsule, rice flour, vitamin C.
Gluten-free and lactose-free.
Lactolerance 4500/9000, protection 45 min/1h - moderate/severe lactose intolerance
Lactolerance 4500/9000 capsules are to be taken on demand, immediately before the consumption of a lactose-containing product. They work immediately, after the first intake, for 45 minutes to 1 hour. Renew the intake once this time has passed to continue consuming lactose.
Adapt the number of capsules to your level of intolerance of the quantity of lactose to consume. If a minimum of 2 capsules of Lactolerance 4500 are necessary for your comfort, choose Lactolerance 9000, which is simpler and more economical. 
Maximum recommended quantity: 12 capsules per day for Lactolerance 4500, 6 capsules per day for Lactolerance 9000.
Ingredients : Enzyme Lactase, from Aspergillus oryzae, Anti-caking agent: calcium carbonate, envelope: vegetable gelatin (HPMC). Without flavouring, colouring or gluten.
Are there any side effects?
The ingredients contained in Lactolérance are 100% natural products, perfectly tolerated by the body and without any undesirable effects.
How to store Lactolerance ?
Shelf life : minimum 2 years.
Store in a cool, dry place. Avoid the bathroom.