Diagnostic
Where do you stand on your lactose intolerance?
Which product to choose to fight against lactose intolerance?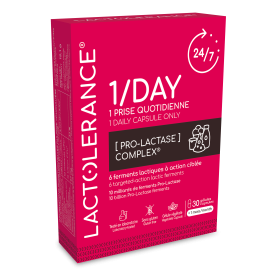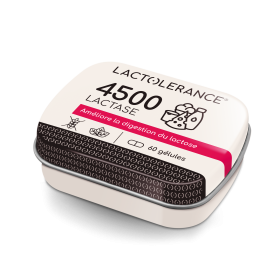 Why choose Lactolérance?
Quality
100% natural
Laboratory tested
Available in pharmacies
Proven effectiveness
Services
Personalized advice
Free 24h-48h delivery in Point Relais
Loyalty program
Subscriptions available without obligation
Commitments
Caring Customer Service
Satisfied or 100 % refunded
Same day shipping for orders placed before 2:00 PM (excluding weekends)
They testify

Since I take a single 1Day capsule, no more worries when consuming a dairy product and no more having to walk around with capsules just in case. One a day and everything is settled.
I no longer have a stomach ache !!!!! I can again eat cottage cheese and products containing lactose without being afraid of pain and diarrhea! I take the one day Thank you !!!!!
My 16 year old son has been lactose intolerant for many years thanks to the "lactolerance" products, he can afford to deviate from his lactose free diet. The products are very effective and the site very serious. Thanks to Lactolérance!
Lactolerance has been preventing me from having very violent crises due to lactose for 2 years now. (Pain and vomiting). I gained an incredible comfort of life. Always super fast delivery! I recommend with my eyes closed and could not do without it. Thank you !
Easy navigation, quick order reception and very good quality products
Lactolérance is available in pharmacies
About Lactolérance
Lactolérance is the first brand of food supplements entirely intended for people with lactose intolerance. An expert brand, created by lactose intolerant people for lactose intolerant people. This intolerance causes digestive discomfort. It complicates all meals out and social life. To prevent these inconveniences, Lactolérance promises simple and effective solutions based on lactase, the enzyme essential for the optimal digestion of lactose.
Our food supplements have been developed in collaboration with gastroenterologists and dietitians. We use quality ingredients for products with proven efficacy, which have been tested in the laboratory and which are prescribed by doctors.
Lactolérance offers a range of 3 references, each adapted to a particular lactose intolerance profile and an individualized lifestyle. Everyone can find their own solution, and our Customer Service is at great pains to advise you.
Our positioning vis-à-vis milk and its supposed virtues is very clear. We believe that milk is not a "friend for life", especially for the lactose intolerant. In no case do we promote milk. Our food supplements are not an incentive to consume dairy products, but only a means of considerably improving the quality of life of lactose intolerant people on a daily basis, especially outside the home, while diversifying and enhancing their diet. and facilitating their social life.